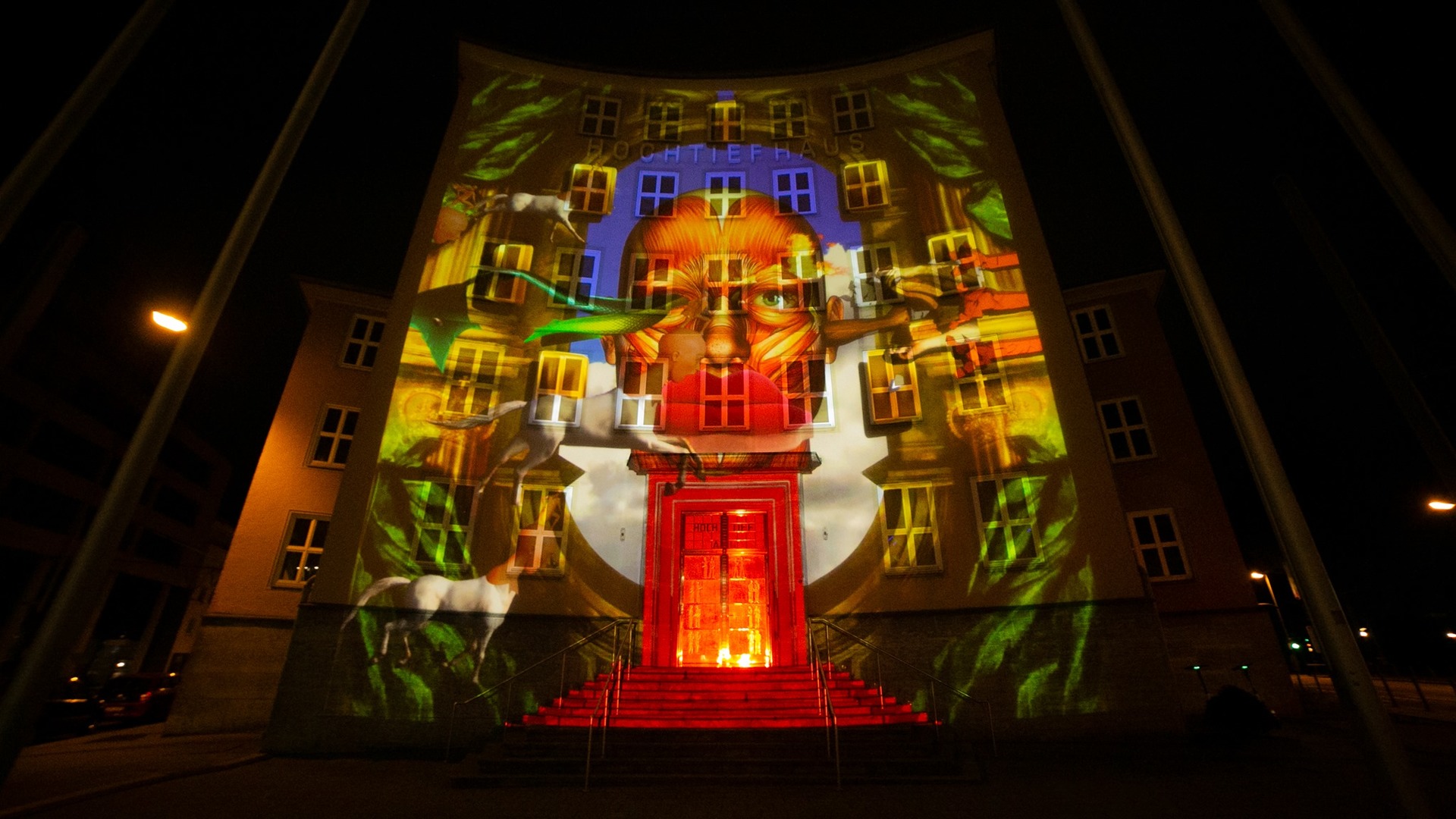 Video mapping on buildings brings ideas to life
There's nothing quite like going to the movie theater to see your favorite story projected onto the big screen in 3D. You stand ready with your seat number, 3D glasses, popcorn and large Coca-Cola, about to be immersed in the sound and visuals of the movie. Now imagine having the same experience when walking past a building in your city. You realize you forgot your 3D glasses at home, yet you're bearing witness to the same stunning graphics, this time created by video mapping on buildings and somehow perfectly mapped onto the facade. 
Video mapping on buildings creates an unforgettable experience that can be relived online and sparks a huge social media hype. When building projection mapping, the immersive effect that you have will depend on the amount of projectors incorporated. You can either use a flat surface such as a wall or floor and project 2D images, or you can use 3D images and really transport your viewers. Let's unpack 3D projection a bit more.
What to consider when building projection mapping
While time and budget are pivotal, it's also important to know what projection mapping technology is, and that 3D projection mapping can be used on basically any surface that catches light – from bridges and buildings to cars and trees.
3D modelling: Building projection mapping requires an accurate 3D model of your building, which can be made using laser scanning. 
Translating the map: This map can then be translated into a pixelated one, which will give you an indication of how many projectors you will need and whether your content requires a high or low resolution.
Audience view: Then it's time to think about the view you want your audience to have. Whether your viewers will have an aerial view or are looking up at a building, the projection must be angled and this desired view will be determined by the position of the render camera. 
It's all about the content: The content is entirely up to you, and should be designed to fit your message and brand vision. Whether you want to transport people to a new location that they wouldn't normally have access to, commemorate the building itself, or host an advertising campaign, the content is where you can be most creative. 
Trial and error production: The final stage of building projection mapping is on-site and entails a lot of trial and error. Lighting, proportions, alignment and blending will all be tested until the projected image perfectly fits the facade of the building. The end result will look something like what you are about to witness. The following examples are some of the most creative and biggest video mapping on buildings projects. 
Dinosaurs walking the streets of Paris
What's one thing that humans haven't had the pleasure of witnessing – and are fortunate not to be running from right now? Dinosaurs!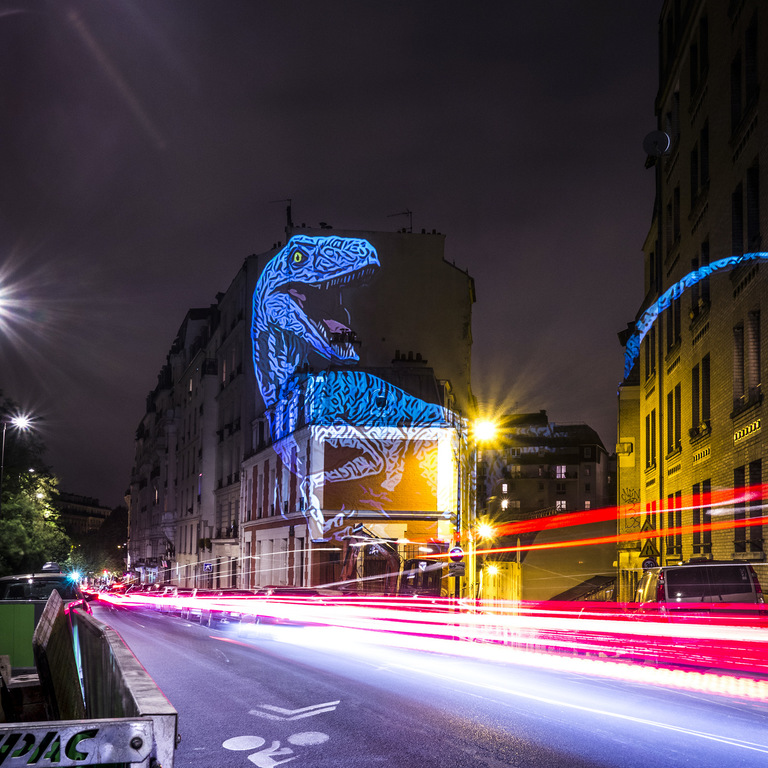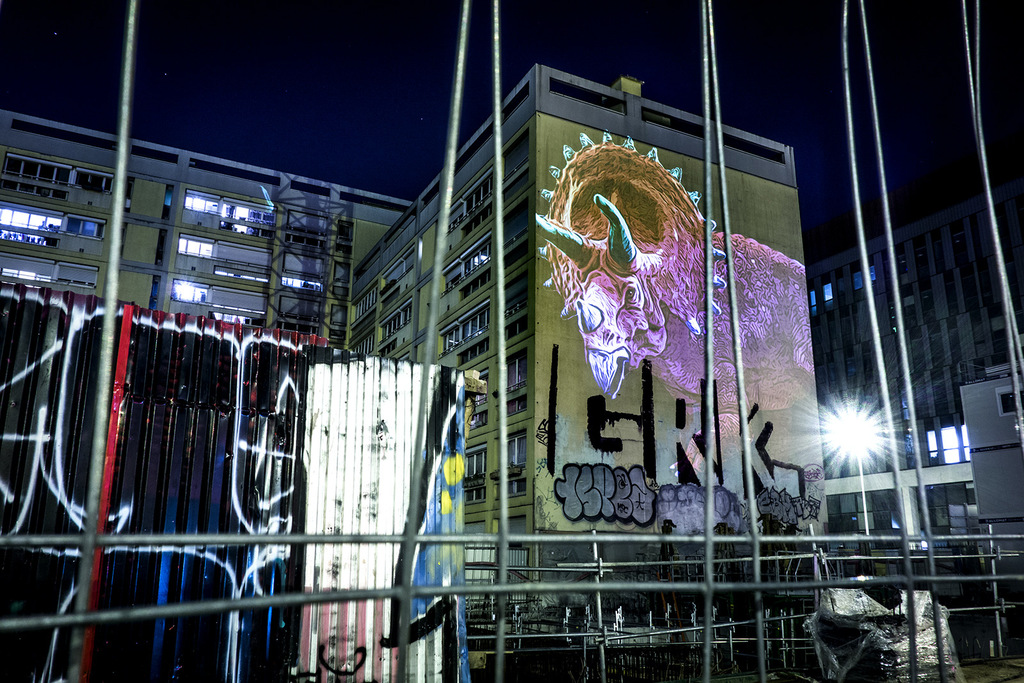 Instead of – like usual – appearing only as bones in a museum, or featuring in movies and popular recreations by David Attenborough, the dinosaurs Tyrannosaurus Rex, Brontosaurus and Triceratops were unleashed in the alleyways of Jardin A'cclimation in Paris using video mapping on buildings. Massive holograms allowed these resilient reptiles to follow people and move from building to building. 
French artist
Julien Nonnon
, who created the exhilarating scenes, sees building projection mapping as an interactive and immersive project that incorporates kinetic installations,
video mapping
and digital creations. Scientific data can teach us a lot about the largest animals that walked the earth for 140 years, but video mapping can really put their sheer size and grandeur into perspective; making a time-traveling experience with luminous 3D projections, pop culture colors, and sounds.
HBO The Voyeur Project
Do you sometimes find yourself peering into your neighbors apartments and taking an interest in their life, who they are and what they do? You never plan on waving or interacting, yet you wonder why they're laughing or arguing, or whether the person that just walked is a friend or lover. This is quite common – then you get voyeurs, people who want to witness intimacy, sexual acts or the naked bodies of others.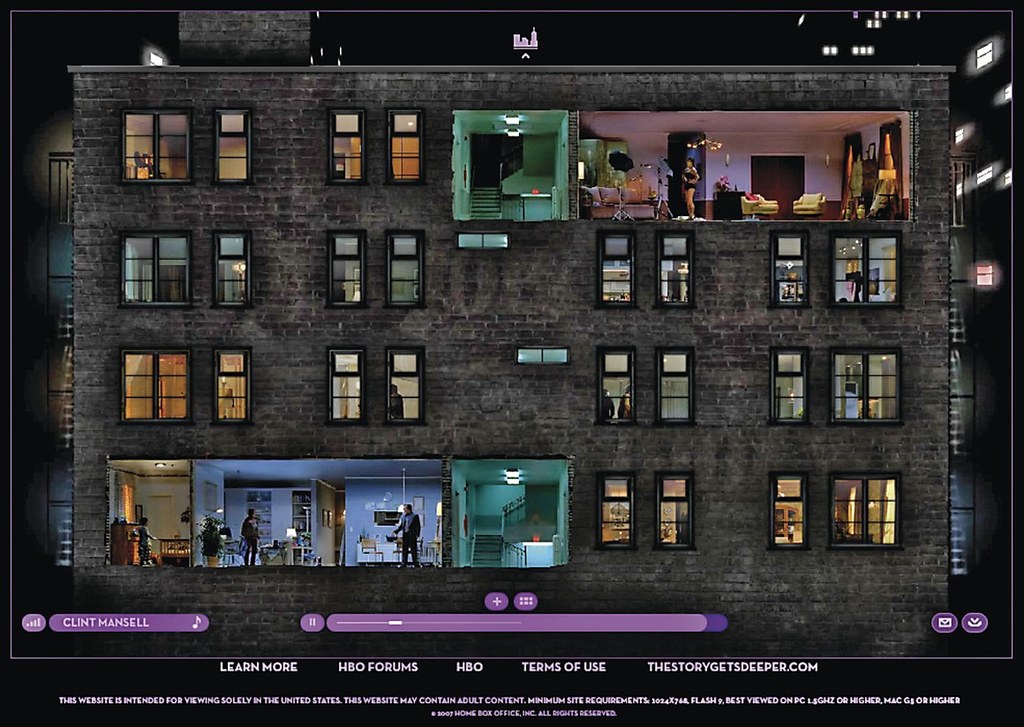 HBO, the US TV network infamous for its gripping and often hilarious storytelling, offered its audience a unique opportunity to become voyeurs themselves. Their latest brand campaign by BBDO is called "The HBO Voyeur project", and it is anything but conventional. The network utilizes video mapping on buildings to give an intimate view into the lives of people in eight different apartments in New York City. Romance, treachery, loss and temptation all appear in this branded experience that successfully conveys the idea that "the best stories are the ones we were not meant to see".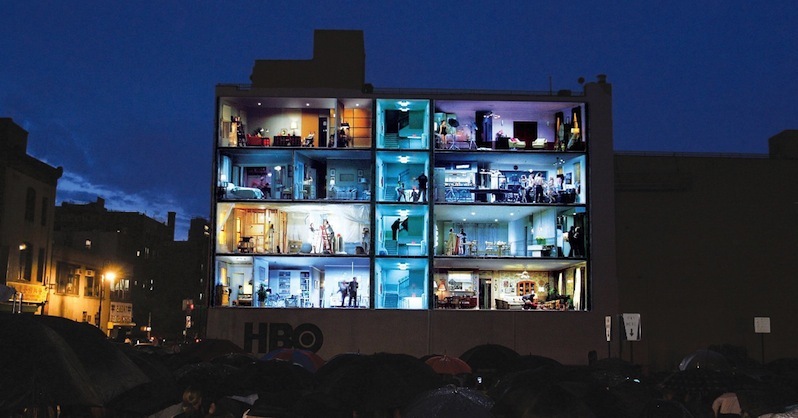 As opposed to simply telling fans how transcendent their storytelling is, HBO decided that building projection mapping on an apartment block at Ludlow and Broome Street would draw attention to the act of watching others. A life-size projection allowed viewers to watch and listen as the stories unfolded – it was as if they had x-ray vision into the building. From Game of Thrones to Euphoria, the network has once again shown it is at the forefront of the evolution in entertainment.
Moscow Circle of Light Festival
As well as being ideal for advertising campaigns, video mapping on buildings can be used by cities as an opportunity to host entire events, celebrate talented lighting designers and showcase audiovisual art by studios and creative teams.
The Moscow Circle of Light Festival
is an annual event that combines symbolic landmarks in the country such as Bolshoi Theatre, the Moscow State University and the Moscow Manage with 2D or 3D building projection mapping. This kind of video mapping on buildings gives residents and tourists the chance to watch as the architecture and geometry of Moscow's buildings are transformed using traditional and modern video mapping.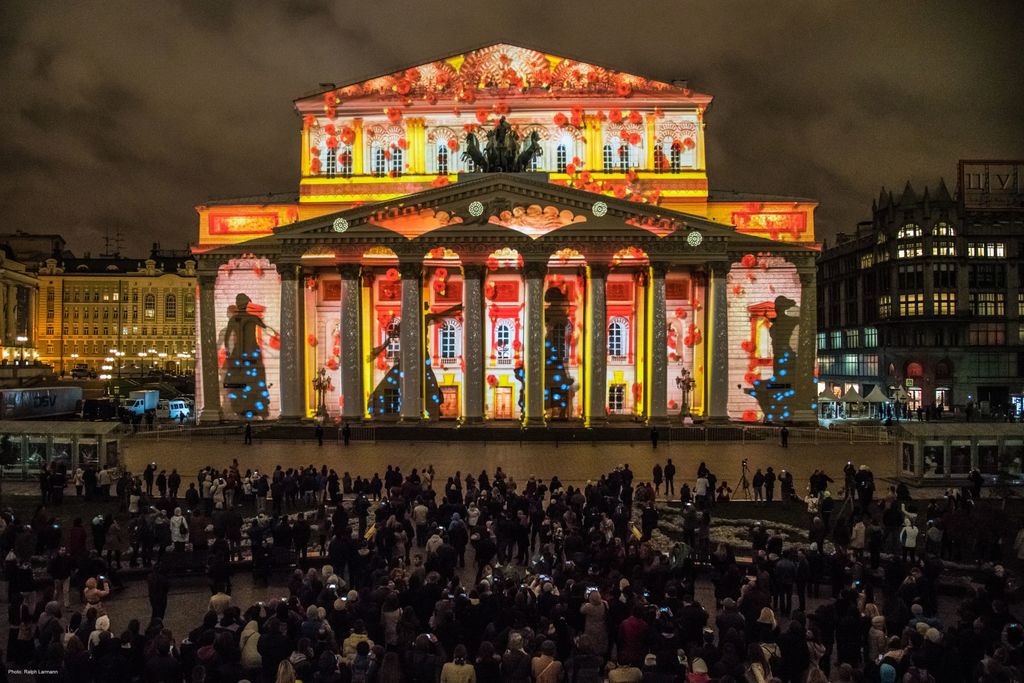 In 2015, the nine-day festival displayed a 50-minute story on 20,000 square-meter facade of the Ministry of Defence. Using 140 Panasonic projectors, the Moscow Circle of Light Festival won the Guinness World Record for the largest projected image and then broke their own record just a year later with a 50,458 square-meter video mapping display on the Moscow State University. A spectacular video animation and narrative told the history of the university and paid homage to protected Russian landmarks.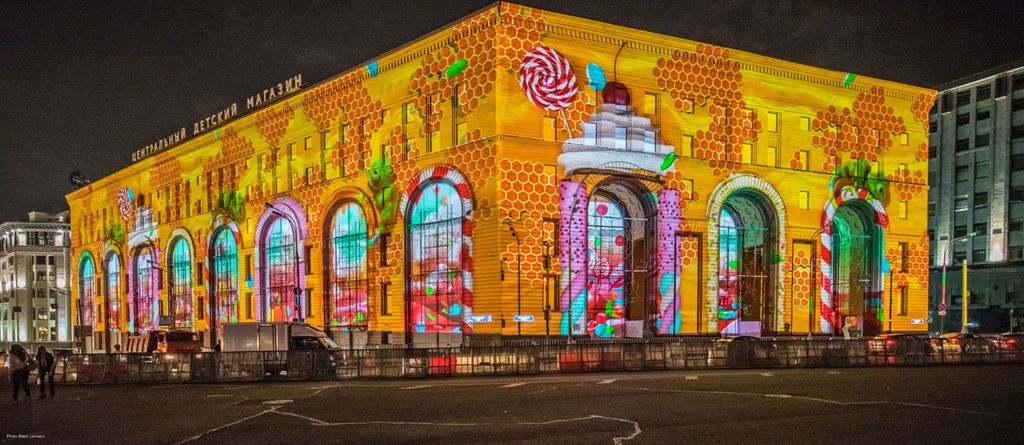 The future of building projection mapping
The possibilities of projection mapping are evolving as technology does. Techniques continue to expand as experiments with interactive sensors, real-time graphics and motion tracking technology transform street art into a multi-sensory, immersive experience. The success behind this modern art form is that it's not bound by any artistic genre, while its complementary nature catapults any guerrilla ad, painting, mural, graffiti, or sculpture into a phantasmagoric experience. 
Send us your briefing
We're excited to hear from you! If you're looking for artistic solutions for your next creative marketing campaign, send us your briefing. We can also help create a killer concept if you're in an early ideation phase. Check out our services for more.