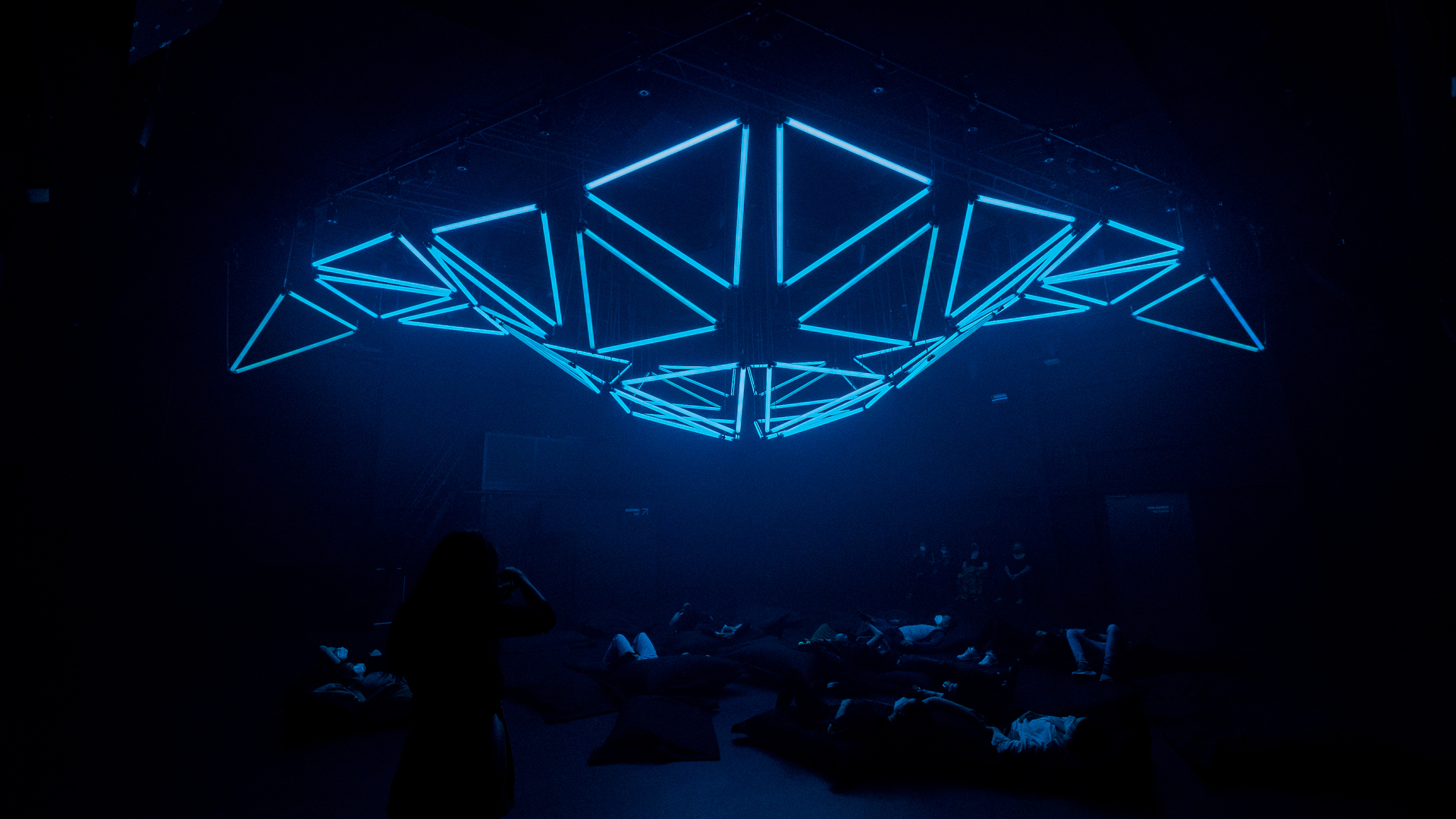 Look but also touch: the rise of immersive art
The process of visiting art galleries and museums generally goes like this: you purchase the ticket, arrive at the venue, enter the exhibition, admire the art from afar and pretty much always stay behind the rope fence. Unless you want a security guard to quietly remove you from the building, it's recommended to never touch the art. The exhibition is a passive experience that often ends with sore eyes, as attempting to absorb a vast amount of information in a short period of time is a strenuous activity indeed. 
*Immersive art enters the chat*
It's in the name: immersive, absorbing, captivating, and most definitely mesmerizing.
Creative art consumption
Immersive art is an experience. The medium envelops the viewer and removes passiveness from the trajectory, requiring and rewarding an actively enthusiastic mind. This new art viewing experience has soared in popularity since the early 2000s, correlating with the advancements of technology, with immersive art exhibitions being installed all over the world. Immersive art activates the senses and brings the viewer inside the art, augmenting their reality and enhancing everyday life.
The growth of immersive art  
To put into perspective how immersive art compares to traditional art galleries and museums, take a look at teamLab, an art collective formed in 2001 by a group of artists in Tokyo. As of 2019, their Borderless museum is the
most visited single-artist museum in the world
. It welcomed 2.3 million visitors from over 160 different countries within one year of opening, attracting more attendees than the popular Picasso Museum in Barcelona. 
Immersive art is making moves. Despite the COVID19 pandemic that saw businesses worldwide shut their doors for good,
entrepreneurs are betting big on the experimental artform
. After experiencing long periods of lockdown, people are itching to get out of the house and immersive art exhibitions are the way forward. The industry was valued at $61.8 billion in 2019 and is expecting tremendous growth in the coming years.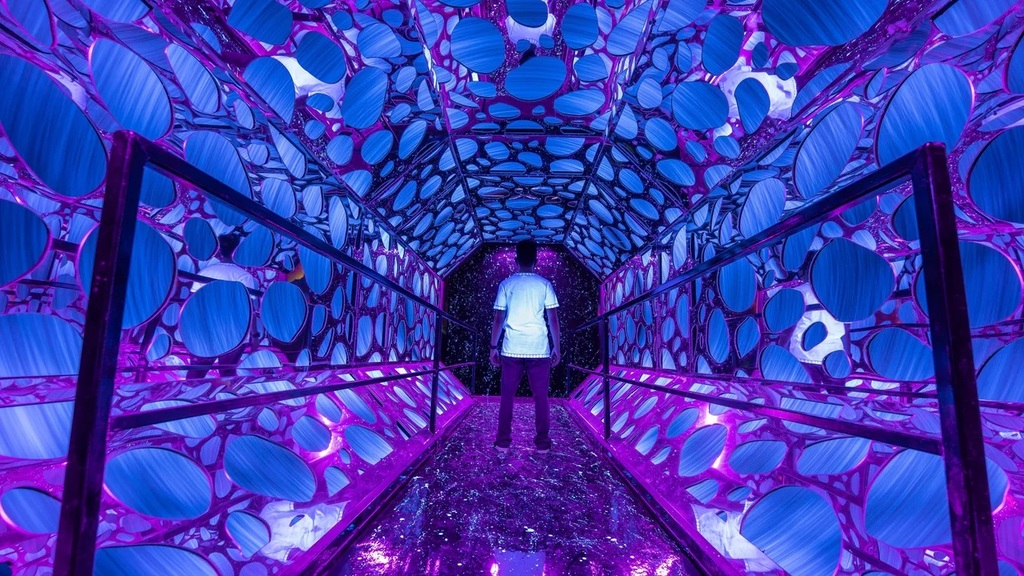 Van Gogh from a new perspective
A popular immersive art exhibition that has been circulating the world and appearing in locations including Berlin, London, and Paris since as early as 2001 is the Van Gogh Immersive Experience. The exhibition sees the Dutch painter's work come to life with state-of-the-art technology that presents the world-famous paintings in a progressive and sensational way. The Bedroom becomes a large and layered cut-out background which lets viewers position themselves into Van Gogh's old room; Sunflowers appears as tangible 3D hanging artifacts, and VR headsets allow you to take a walk through the dreamy village of Saint-Rémy-de-Provence, the inspiration for The Starry Night. 


The main event, however, is nestled deep inside the spectacle in the form of a large rectangular white-walled viewing room filled with comfortable chairs and soft cream carpets, made for relaxing and submerging oneself in the world of the misunderstood genius. Complemented by mood-setting background music, Van Gogh life's work is reproduced across the walls of the room using a 3D mapping projection system, bringing the art to life. The visual narrative takes approximately 30 minutes to view from start to finish, seamlessly looping back to the beginning so visitors can enter and leave as they please. 
Dark Matter brings light to Berlin
Another exhibition found in Berlin which brings the visitor on a breathtaking interactive journey is Dark Matter. In East Berlin, a former factory has been transformed into a display of expansive light installations that exude cosmic energy. There are seven partly interactive works separately located in pitch-black rooms, accompanied by their own meticulously composed soundtracks, fusing the three elements of light, sound, and movement into a harmonious arrangement of gleaming shapes and colors. 
Immersive events and digital acceleration
Art aside, immersive events have also become increasingly popular. Technologies such as video mapping, VR, and augmented reality have provided us with endless opportunities to create something out-of-this-world. Nowadays, people are expecting more than the preconceived event standards; they want to be entertained, engaged, and to leave the occasion feeling inspired. A unique immersive experience will unquestionably get tongues wagging and provide brands with word-of-mouth, not forgetting the power of social media where the unconventional is likely to become viral.


As with immersive art exhibitions, the visitor is brought on an interactive journey and is engulfed in a digital world full of endless possibilities, leaving a lasting impression. Immersive events garner excitement, and brands are increasingly using creative and immersive methods to capture the attention of customers; this is called experiential marketing. 
An immersive experience to remember
Experiential marketing is a strategy that involves immersing consumers in live experiences, and it often overlaps with event marketing. The goal is to create enduring impressions, build lasting connections, and engage the customer by tying the brand to a fun experience.
American Express did just that
when they built a game where you can play tennis against an AI opponent at the U.S. Open. The game did not use any equipment, requiring visitors to use their hands and body to return the ball – an experience that was customized to each player through a motion sensing device. 
Note how American Express weren't physically advertising their service, but instead provided a fun event, allowing people to feel they were participating in the tennis tournament they were attending. This experience undoubtedly left a positive memory in the minds of the participants and subtly promoted American Express without pushing the actual service the brand provides. This marketing strategy is referred to as 'soft advertising', a technique used to promote a brand or product through relationship building and allowing the customer to form their own subconscious opinion in response. 
Gets people talking
There is a societal movement towards experiences over material things, and since the pandemic it's stronger than ever. This experiential avenue presents endless opportunities and will undoubtedly be making headlines in the upcoming years, with the impact of immersive art being already more profound than predicted. This new type of art is about creating a holistic experience for the audience and activating the senses. Combined, immersive art, galleries,
brands
, and museums have the potential to become an out-of-this-world adventure that even artphobes won't be able to resist. 
Send us your briefing
We're excited to hear from you! If you're looking for artistic solutions for your next creative marketing campaign, send us your briefing. We can also help create a killer concept if you're in an early ideation phase. Check out our services for more.