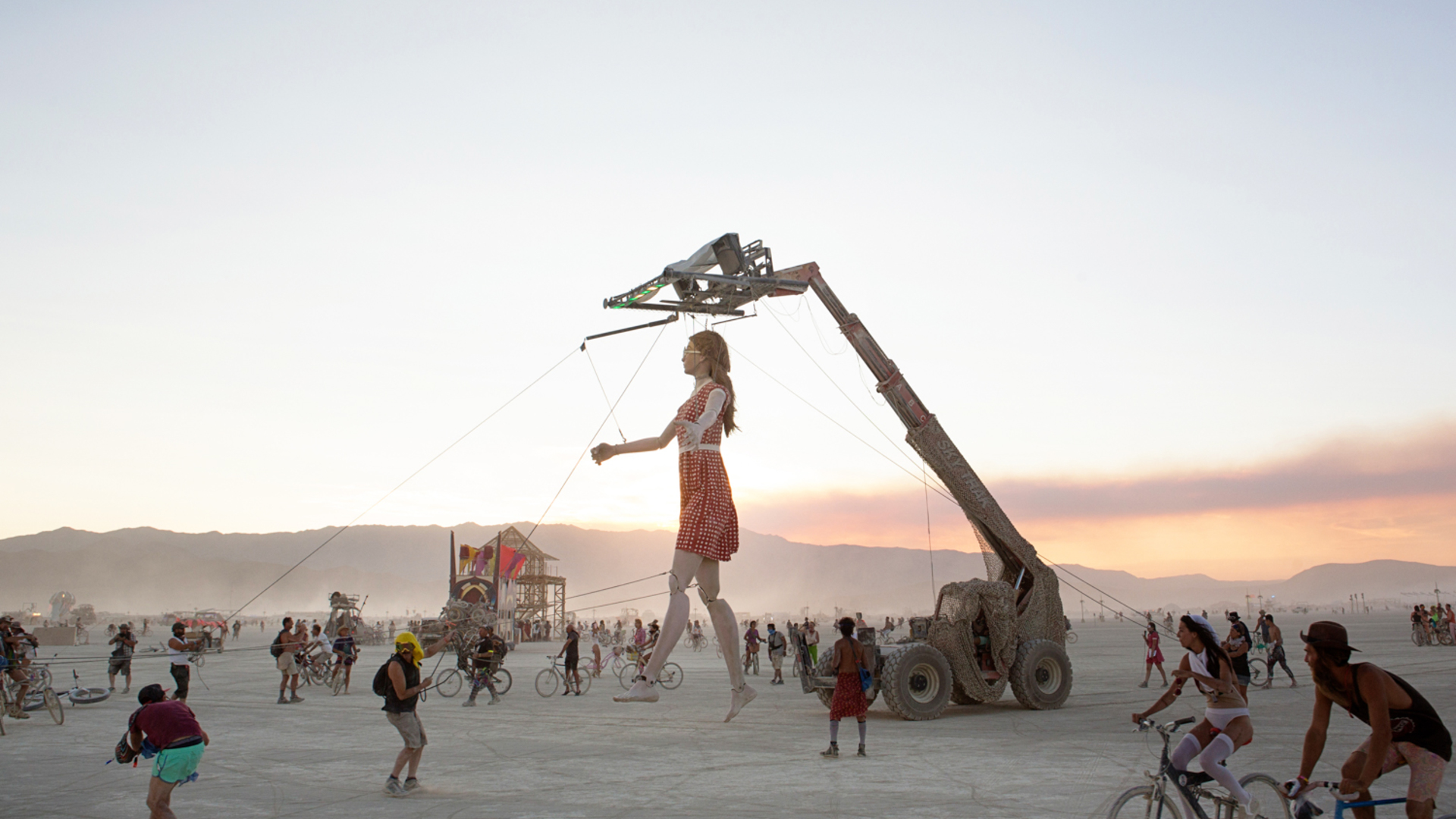 The modern avant-garde disturbing our notion of space: Top 4 examples of installation art
If you enter a space that's been taken over by an artwork, you yourself will become part of the art. Installation uses large-scale mixed media and its sheer magnitude to envelop you or leave you wondering why something that does not quite belong in a space somehow fits perfectly. 
Installation art
can be temporary or permanent, but it is extremely site-specific, popping up in public and private locations to impact viewers at a specific moment. Embracing a broad range of materials, it mixes and blurs different artistic genres.
The difference between art installations and sculptures
Installation art can be distinguished from traditional painting and sculpture because it is about engaging its audience on various levels, stimulating their senses of smell, sound, touch, and vision to create a novel experience. Sculptures located in galleries, museums and exhibition spaces are largely about the aesthetic quality of the final product and afford viewers a very one-dimensional perspective.These works of art are celebrated for their exhibition value and can be repurposed and redisplayed by an art collector. 
Installation art, on the other hand, can quite literally be located anywhere; streets, buildings, playgrounds and exhibition spaces. These artworks alter how we perceive the space they're in and create a unified three-dimensional experience, where the viewer becomes the main subject around which various pieces are arranged to create a dialogue – one that is as much about the space as it is about the artwork. Installation art is an artform less centered on aesthetic beauty and more on a conceptual idea and a desired impact. 
With modern technologies continuously expanding, brands and creatives have realized the need to acknowledge the growing
experience economy
and are increasingly turning to installation art, which hasn't lagged behind; immersive virtual reality, video, sound, and public interactive art are all embraced and used to construct artworks for the audience, as well as around the audience. Let's delve into this perplexing and interactive artform by looking at the top 4 examples of installation art, all of which beguile their audience, make them contemplate and even question ideas about the artwork, society or themselves. 
Salvador Dali's video installation meets rock band Pink Floyd
One of the most extraordinary examples of installation art is the 2021 immersive exhibition
The Endless Enigma, which
illuminates the work of Salvador Dali by taking viewers on a journey through his kaleidoscopic art. The digital exhibition, assembled in the Atelier Des Lumieres in Paris, is a phantasmagoric experience that collates paintings, photographs, films and drawings to magnify the artist's persona and his conceptual artwork on the mystical and supernatural. This is a hypnotic installation that takes viewers on a 40-minute video journey through realistic and abstract landscapes, hypnotising them with Dali's dreamlike images and fantasies.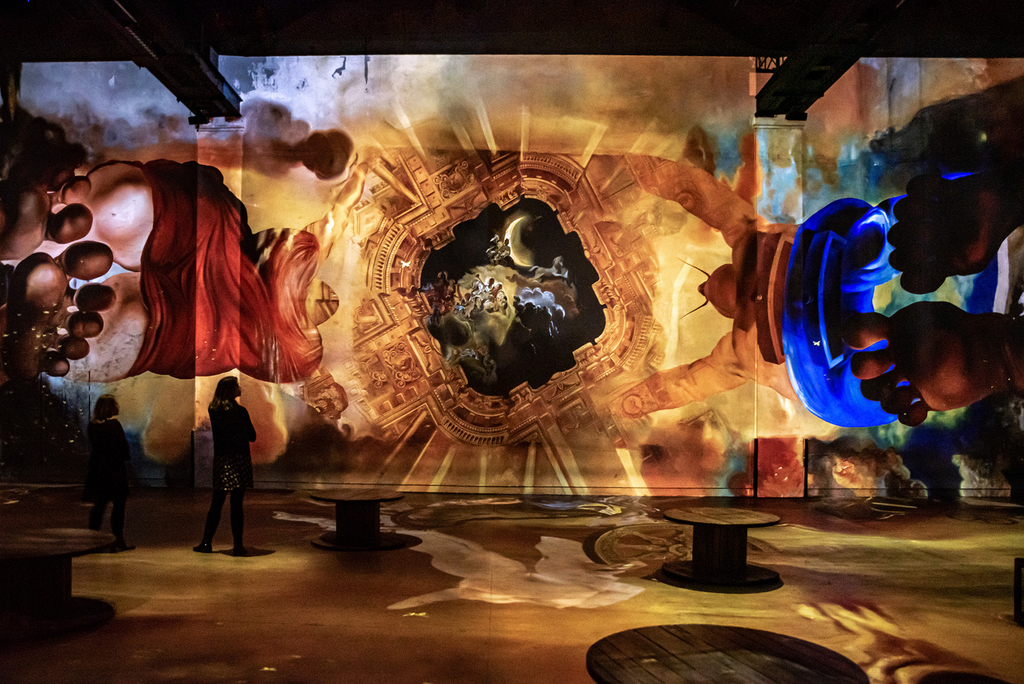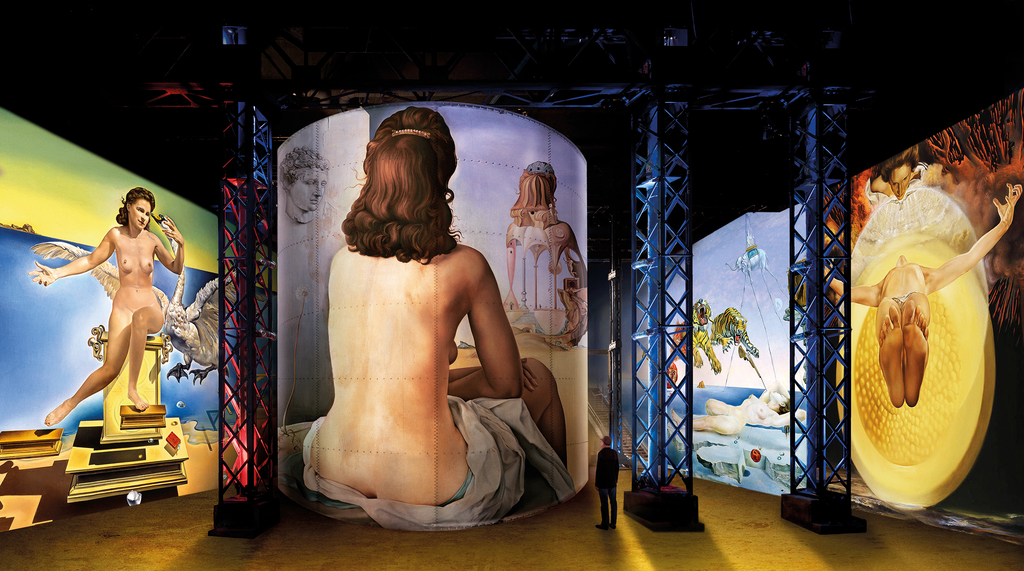 While Dali's art is extremely popular and an art collector's dream, the pull of this exhibition lies in how you experience the work. The artwork is projected across 1,300-square meter walls, moving onto the floor and ceiling. Viewers are transported into a world of the artist's utopian and dystopian realities and invited to interpret, for example, Dali's The Persistence of Memory and conjure their own visions. With a soundtrack by the rock band Pink Floyd playing in the exhibition space, viewers are afforded a sensory and visual experience, entirely different to the distanced perspective commonly offered by galleries and art spaces. 
The Louvre's momentary paper art collage 
Known for his large-scale public fly posting of black and white photographs, French street artist JR and a cohort of 400 volunteers celebrated the 30th anniversary of the Louvre Pyramid's breathtaking glass structure by turning the surrounding courtyard into an optical illusion using 2000 strips of paper. Once all together, a unified installation emerged.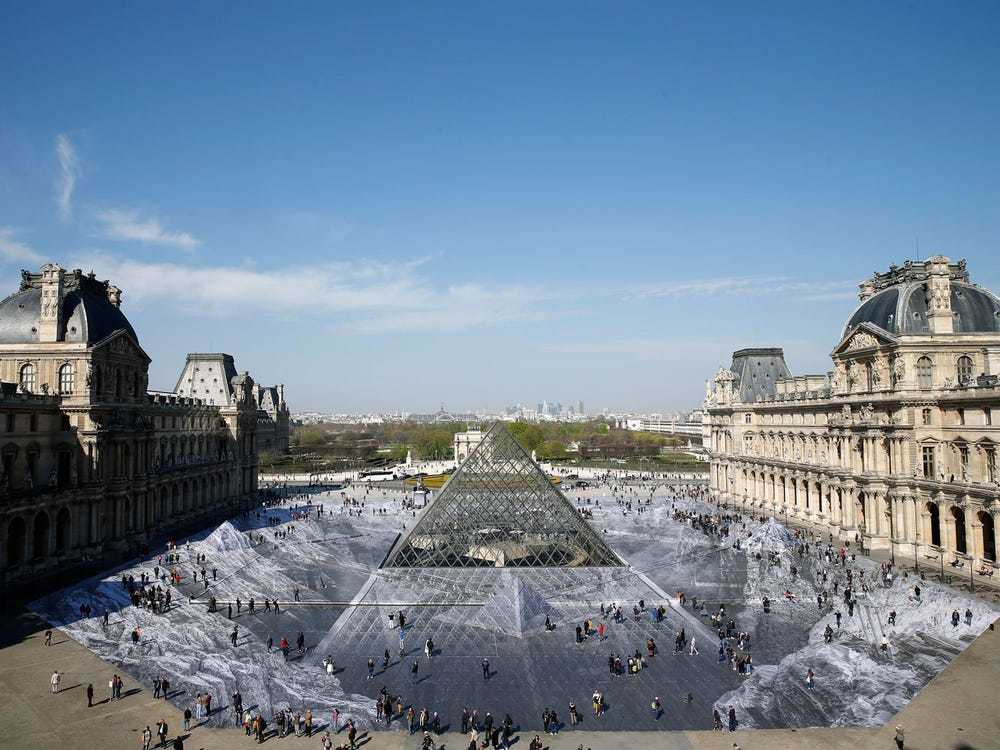 Juxtaposed with the Egyptian pyramids that stand to this day and see frequent new discoveries of royalty, tombs, treasure and hieroglyphics, JR's installation depicts a construction site. The pyramid lies at the center of what appears to be a gigantic rocky quarry. Titled The Secret of the Great Pyramid, the collage has made the top 4 examples of installation art for its visual realism and vision of what may lie beneath the surface. 
What came next was record-breaking damage to the artist's work as tourists tore the images by walking over the display; some pieces went flying, while others were collected as souvenirs. This was, however, all part of the artist's message: that images, like life, are momentary and fleeting. 
Installation art offers an opportunity to take three-dimensional art to a new level and create an experience for viewers that is interactive rather than passive, as we can see from how volunteers, collectors and visitors walked through the public space created by JR. In contrast to the Salvador Dali installation, here art is removed from its conventional position within the gallery walls. Art is constructed not within the museum, but on the exterior, and it's not hung on the walls, but positioned on the floor.
Save marine life: One of the best examples of installation art underwater
The previous examples of installation art have focused on reimaginings of indoor and outdoor spaces. Because this artistic genre relies on different contexts for its creation, it can also be used to bring attention to an environment or the inhabitants of that environment. 
"As the most destructive species on Earth, humans continue to damage coral reefs and marine life through overfishing, oil spills, pollution and countless other practices that are ruining entire ecosystems." – Jason deCaires Taylor
Jason deCaires Taylor, a scuba diver and sculptural artist, saw the devastating state of our oceans and aquatic life as a chance to create artificial coral reefs and turn the ocean into an exhibition space. This was not without its challenges, as all materials including the cement had to be pH-neutral and long-lasting, as well as boost marine diversity.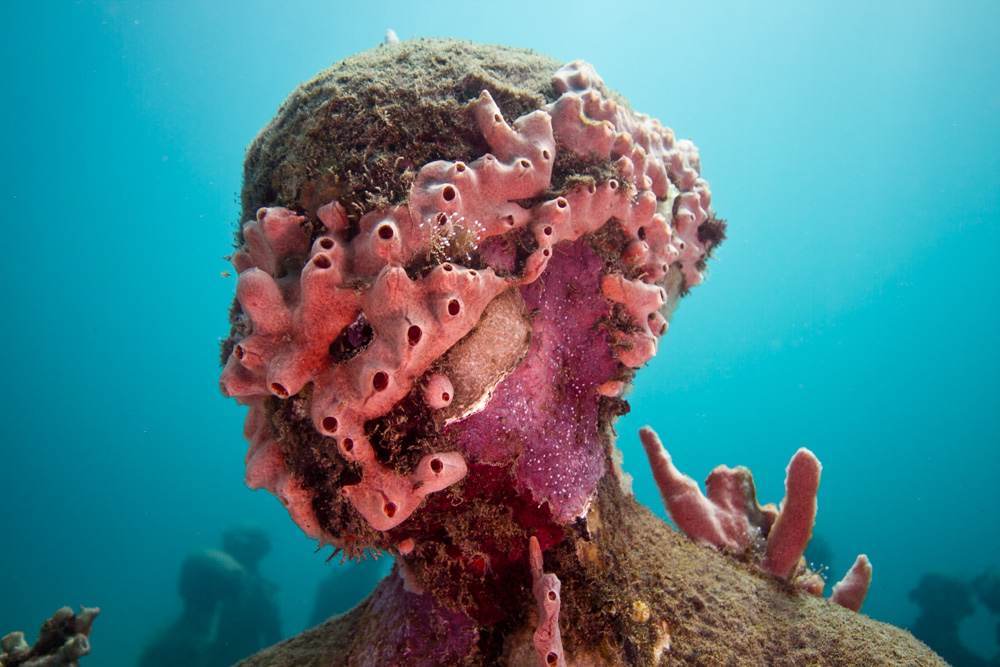 The artist's The Grenada Underwater Sculpture Park is the first of its kind. The notion of an artificial reef came to deCaires Taylor after a large hurricane destroyed the reef structures, which led to a rapid decline in tourism. On top of that, studies show that
25% of marine life depends on coral reefs
, while 40% of this biodiversity has already been destroyed. The underwater installation successfully created structures which support coral regeneration and which saw a 200% growth in marine life.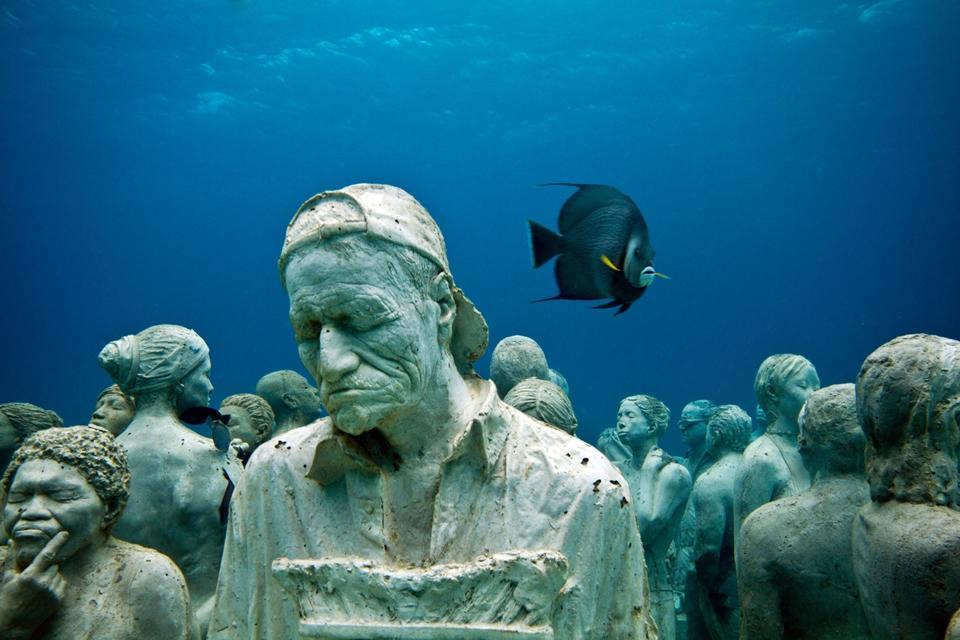 It's an interactive underwater experience that, as well as helping coral and oceanic biodiversity, features 75 steel and concrete sculptures bolted to the seafloor, which immerse visitors in a snorkeling or scuba diving experience. Once you're about four meters under the water, the real storytelling adventure begins as you're met by The Banker with his head in his hands on the ocean floor, representing the 2008 global financial crisis, while The Vicissitudes is a display of 26 children holding hands which can be interpreted in various ways.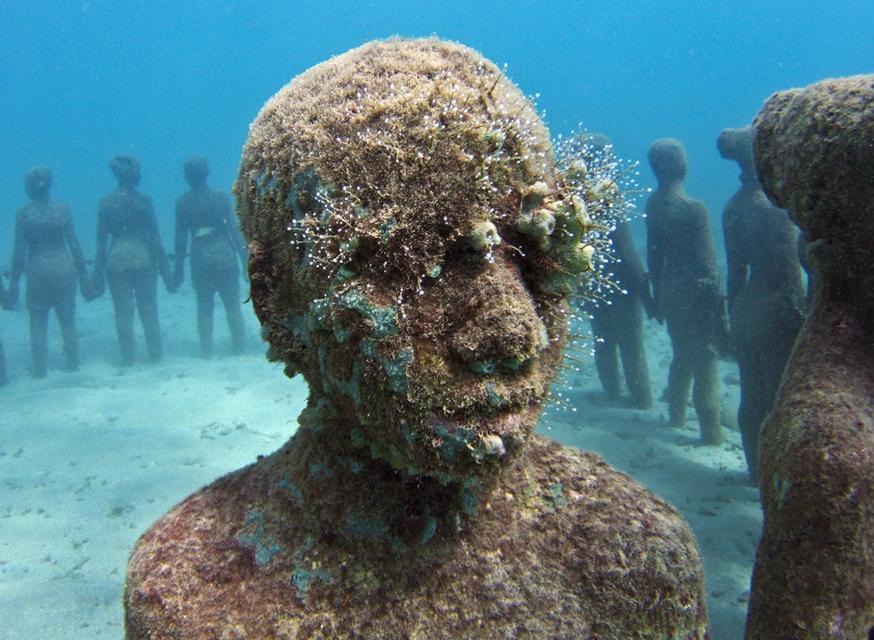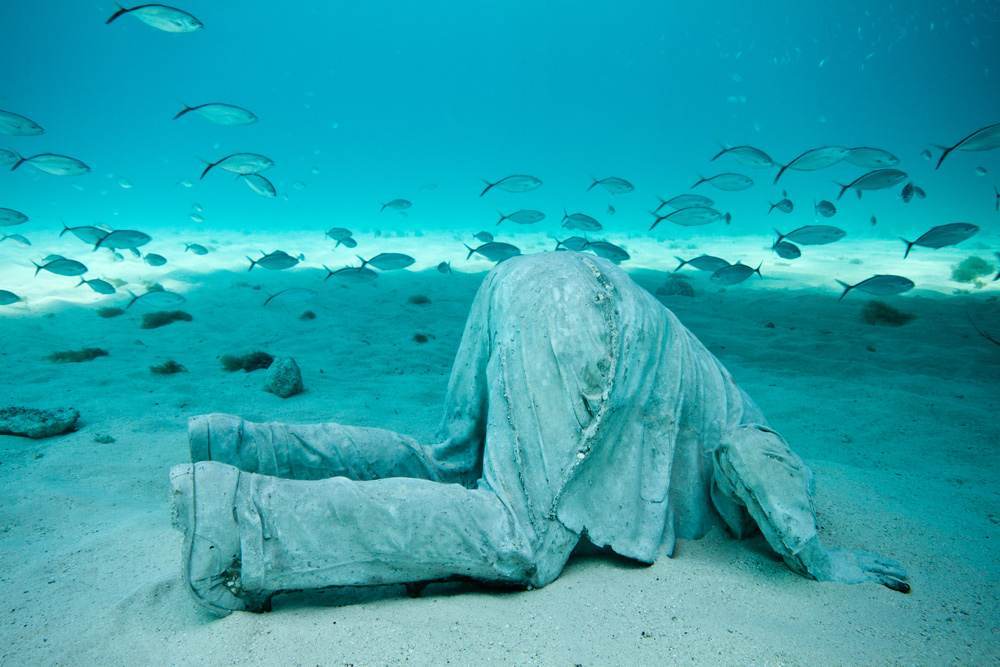 This is one of the most spectacular yet haunting examples of installation art as it creates a unified image and uses art to convey complex arguments about ocean conservation. The installation presents a visual narrative; rather than attempting to enlighten people with daunting figures, deCaires Taylor instead uses the visual as a powerful tool to create an emotional response. 
Burning Man: A temporary city with social sculptures 
From the ocean to the desert, every year Black Rock City in Nevada turns a desolate desert into a fantastical community of fire, dust and metal, and hosts some of the most extravagant art installations. It's not a festival like Coachella, but a cultural movement that creates a decommodified space where people come to participate in an unconventional lifestyle, create, connect with others, and leave the space as it was.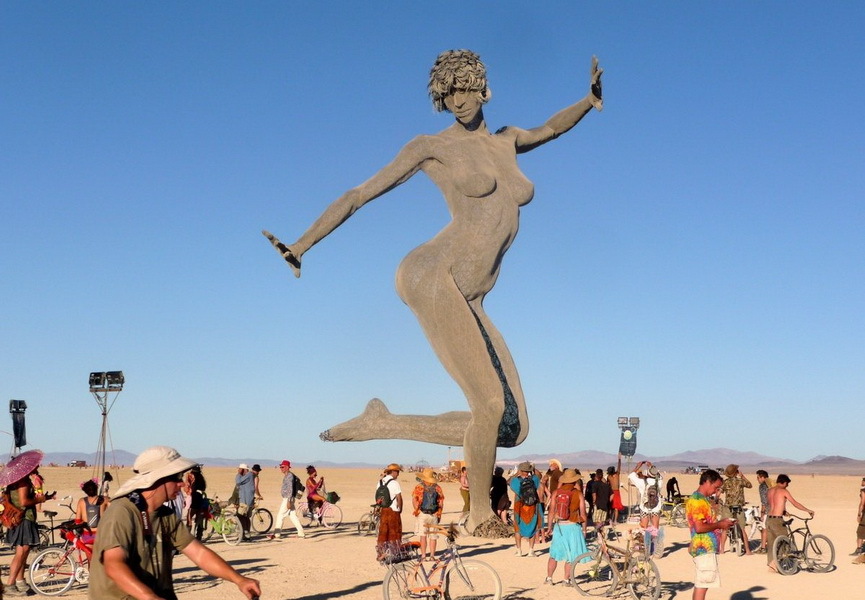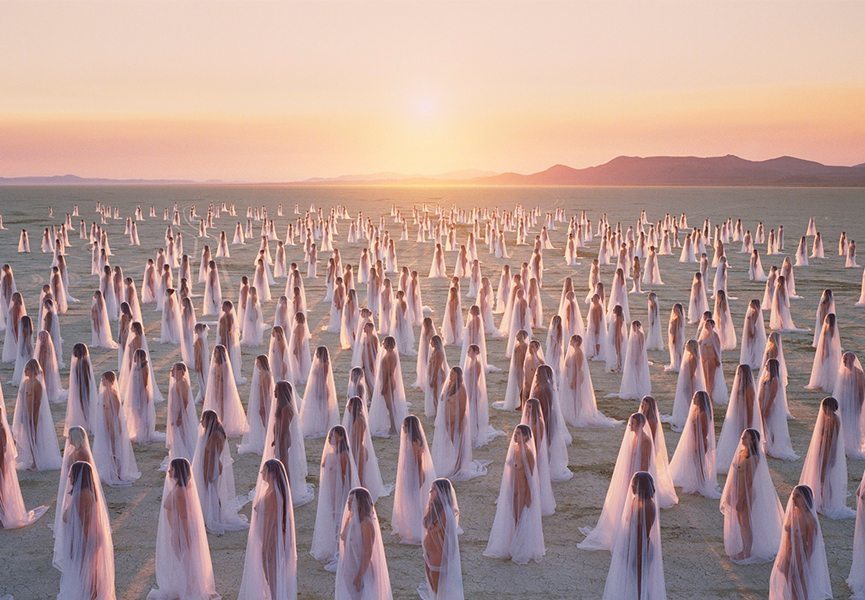 Each event is shaped by a specific theme or concept that creates a new world separate from what we understand as "normal" society. Society is built on rules of conduct, and each society has structures and systems to keep it running; at Burning Man, art is used to create social sculptures and usher in a utopian world that follows its own 10 commandments, such as gift giving. Here, people can take on different roles to the ones usually assigned to them. 
This is immersive art on a whole new scale, as human behaviour alters while there. At Burning Man 2010, Marco Cochrane designed the figure of a nude woman using steel and drawing on art deco inspirations. The figure stands in a dancing position, weighing three tons and towering 14 meters above everyone, embodying beauty, empowerment and feminine strength. Another installation in 2013, Desert Spirits, transcends conventional ideas of installations as being for people and incorporates hundreds of nude volunteers into the actual display. Wearing transparent cloth, men, women, and gender non-conforming visitors stood depicting ghost-like figures to celebrate the spiritual nature of this event.
These are some of the most expressive installations as they do more than initiate an engagement between the art, the audience and the creator. They introduce new structures or take the form of architectural displays that bring about social interaction among the people navigating them. The Black Rock Lighthouse Service by Jonny and Max Poynton is one such example, where an adult jungle gym becomes both a form of shelter protecting you from danger and a space where you can have fun and interact with friends. At night, luminous colours fill the lighthouse. 
Installation art is all about ever-expanding creative freedom because of its unconstrained embrace of materials and structures. In recent years it has blossomed, becoming a contemporary artform used for increasingly ambitious artworks that have transformed urban spaces. It's an instantly captivating way to create interactive experiences – one that does not abide by or even taunts the boundaries of art making. These examples of installation art show why it's fast becoming a vital part of contemporary art.
Send us your briefing
We're excited to hear from you! If you're looking for artistic solutions for your next creative marketing campaign, send us your briefing. We can also help create a killer concept if you're in an early ideation phase. Check out our services for more.